Buchbesprechung

J. W. Dunderdale

Kendal Brown
The History Of Kendal´s Tobacco and Snuff Industrie
Willi Albrecht
Wie einige unserer Leser sicherlich bereits wissen, kommen aus dem britischen Kendal ausgezeichnete Tabake. Zwei Firmen, Samuel Gawith und Gawith & Hoggarth sind hier seit mehr als 200 Jahren angesiedelt und produzieren heute noch nach alten Rezepten und Methoden Pfeifen- und Schnupftabak.
2003 erschien ein englischsprachiges Buch, welches sich mit der Historie der beiden Häuser und sowie deren Produkte beschäftigt und mir in der zweiten Auflage vorliegt. Der Klappentext gibt ausführliche Auskunft über den Inhalt:
"This is the story of the history of the Kendal tobacco an snuff industry and the three main firms involved. We could not tell one without the other. The town has been synonymous with snuff for more than two hundred years and is renowned worldwide for one in particular – namely "Kendal Brown".
James Dunderdale starts at the very beginning, when tobacco was first introduced to Europe by the Spanish and Portuguese Conquistadors, the later into England at the end of the 16 th century, by Drake and Raleigh.
We learn how tobacco was landed at the local Cumberland port of Whitehaven and broght by pack horse over the fells to Kendal, which was on the main pack horse route between England and Scotland . Kendal had over forty water-powered mills, ninety including the Kent Basin that produced a wide range of goods.
We learn about the progress over the years and how the firm of Samuel Gawith & Co. developed into what it is today. The two other firms, Illingworth´s ans Gawith, Hoggarth & Co., play an integral part in our town´s history. The book tells of the families behind the firms, the various blends of tobaccos and snuffs and how they are produced then and now, the workers employed, together with the many photographs that help to illustrate our story. You can almost smell the aroma of the various snuffs and tobaccos as the story unfolds through the centuries of our auld grey town!"
Für den geschichtlich interessierten Fan der Kendal-Tabake, insbesondere den Snuff-Genießer, bietet sich hier ausführlicher und reich bebilderter (schwarz/weiß) Lesestoff an. Auf 170 Seiten erfährt der Leser alles über die Firmenchroniken und die verschiedenen Produktionsmethoden.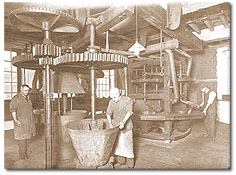 "Kendal Brown" wird in Kürze bei Synjeco zum Preis von ca. 23 Euro erhältlich sein.
Weitere Informationen zu diesem Thema findet man auch im Bericht "Besuch bei den Gawith-Betrieben" auf dieser HP und dem Artikel "Tabak aus dem Ofen und der Mühle" im Smoker Club 2/2004 von Gernot Zerwas.